au·da·cious ôˈdāSHəs/
adjective: showing a willingness to take surprisingly bold risks
synonyms: bold, daring, fearless, intrepid, brave, courageous, valiant, heroic, plucky
At Forty Five will be profiling women who embrace bold living and inspire us to celebrate audacious!
Our inaugural profile honors Kristine Kerr, a woman who pairs her passion of cycling with a determination to raise awareness of her cause. After reading her story, the comment was made, "Kristine is one bad ass lady".
Kristine at 53 is a mother of two, a step-mother of three, and a step-grandmother of seven. She has just completed her fifth nine-day ride from Vancouver, BC to Banff Alberta.
If you are not familiar with BC you need to know this, she started at sea level, elevation 0 and mastered a rise to over 2000 m in elevation.
Many of us cannot imagine ourselves taking on such a commitment. Kristine said:
I know for sure that I would never have considered riding my bike to Banff otherwise; in fact, if someone had suggested it to me, I would have said "You're kidding, right?
So you may wonder what cause would inspire this type of dedication. Well, Kristine has a son born with Cystic Fibrosis* and her journey is fundraising for a CF cure. You can read her personal story in Give Back here.
Kristine posted daily updates each evening on her day. She is known for using songs to help pass the miles and get her through the rougher spots. We are sharing some of her journey highlights and songs:
Day One:
Day's k/m: 103 Hours On Bike: 4.25
Highlights: rain and more rain
A few songs ran through my head today: It's raining, it's pouring…Rain, rain, go away…It's raining again…As long as I kept riding, I was okay; if I stopped for too long, I got cold. Needless to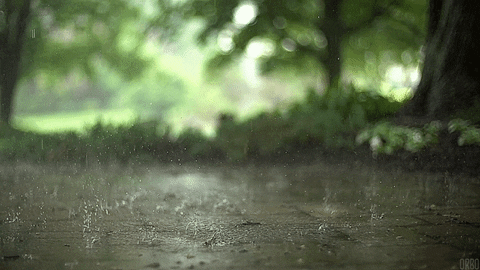 say, my breaks were shorter than usual, and I didn't stop for photos . It was nice to get to the hotel and have a hot shower.
Day Two:
Day's k/m: 125 Hours on Bike: 7.05
Highlights: Two challenging climbs
I sang two more "rain" songs this morning: CCR's "Have You Ever Seen the Rain", and Eurythmics "Here Comes the Rain Again". Fortunately, the showers were brief and we were blessed with overcast conditions, a bit of sun, and tailwinds for most of the day. Perfect for riding… I rode the distance, but am suffering a bit tonight – sore knees to be precise. I'm about to pack them up in ice!! Tomorrow is a big day – we're heading to Osoyoos….
Day Three:
Day's k/m: 185 Hours on Bike: 9
Highlights: challenging, tiring, exasperating, enduring
Despite some nagging "pains", I rode the distance but my time was approx. 45 minutes longer than last year. Here is how the ride is described for tomorrow: "Day Four begins with a monumental climb out of the Okanagan Valley ….Now, doesn't that sound inviting?
Day Four:
Day's k/m: 125 Hours on Bike: 6.75
Highlights: 1491 m up Anarchist Summit
The day ended with the group having a BBQ out back of the motel; there is a nice grassy area right on the river. Everyone shared their personal connection to CF so it was a rather emotional evening. I often think of that actually: while I wish with all my heart that Darren had not been born with CF, the fact that he was has enabled me to participate in these incredible bike journeys and to meet so many wonderful people. Time to turn in – we have two more climbs to tackle tomorrow.
Day Five:
Day's k/m: 97 Hours on Bike: 5.45
Highlights: Two climbs Paulson and Nancy Green
The Paulson is the tougher of the two; my low gear (aka "Granny Gear") came in handy on that one. Having cookies to sustain me was a bonus. 🙂 Despite some headwind and poor shoulder conditions, the descent from the Nancy Green into Rossland was going very well until 3 km from the hotel my chain came off….Tomorrow is one of our most challenging days.
Day Six:
Day's k/m: 134 Hours on Bike: 7.35
Highlights: 1773 m 25km climb Kootenay Pass – highest paved road in Canada open year round!
My climb has gone quite well this year, but it was still tough. Although it was showering lightly this morning when we left Rossland, it had cleared up by the time I started up the pass. An added bonus, traffic was light and there were no bugs! Those of you who have followed along on my previous journeys know that I have a tendency to break out into song (helps to keep me sane). I thought a lot about my son today while completing this year's tune, to be sung to Don McLean's "Crying" or the Roy Orbison/kd lang version.
Day Seven:
Day's k/m: 103 Hours on Bike: 4.45
Highlights: Wind
Apart from nagging issues with my right Achilles, I had a good ride today. It wasn't a tough day elevation-wise, so we got a chance to recover from yesterday and my legs felt strong. Weather-wise, we had everything: rain, a bit of sun, and wind (both head and tail); temperatures were on the cooler side. Our lunch stop had to be postponed; the wind was so bad the canopy set up by the volunteers flew up in the air and broke apart. Thank goodness it didn't blow out onto the highway. As we were only 30 km from the hotel, we grabbed some snacks and kept riding.
Day Eight:
Day's k/m: 133 Hours on Bike: 5.45
Highlights: Blessed with sun/clouds and a tailwind.
After the ride a few of us visit the Arrowhead Brewing Company and just to be clear, I did not drink all that beer; I shared it with my husband Brian. My plan is to get a jump on the day and head out at 6:30 a.m. As per usual, I'm the slowest rider and tomorrow is a long day.
Day Nine:
Day's k/m: 150 Hours on Bike: 7.22
Highlights: WE MADE IT!!
Hello from beautiful Banff, Alberta! …What an awesome ride today. I left early at 6:40 a.m. and the ride through Kootenay National Park was just beautiful. There was one deer, two eagles, and no bears (thank goodness). I leave you with one last song, to the tune of "The Brady Bunch".
Here's the story,
Of a group of cyclists,
Who for nine days rode with just one goal in sight.
They were blessed with legs of strength,
And hearts of courage,
The CF cause their fight.
Here's the story,
Of a group of helpers,
Who were always there with very hearty cheers.
They approached each day with verve,
And met the challenge,
Our awesome volunteers!
While this GearUp journey has now met its ending,
Through the weather, bugs and ice baths – it's a blur!
We sincerely hope the funds raised will be helpful,
To enable folks to find a CF cure.
A CF cure.
A CF cure.
We'll keep riding 'til they find the final cure!
Cheers!
* CF is the most common fatal genetic disease affecting Canadian children and young adults; it is estimated that one in every 3,600 children born in Canada has CF. CF causes various effects on the body, but mainly affects the digestive system and lungs. Typical complications caused by CF are difficulty in digesting fats and proteins, vitamin deficiencies due to loss of pancreatic enzymes, and progressive loss of lung function. The degree of involvement differs from person to person; however, the persistence and ongoing infection in the lungs, with destruction of lungs and loss of lung function, eventually causes death in the majority of people who have CF. For further information, please visit: http://www.cysticfibrosis.ca/